Sustainability Home | Sustainability Report | Policies and Commitments | Disclosures
Sustainability
Delivering on a profound responsibility to create solutions that accelerate a sustainable future for those we serve.
Deep in our Company's heart is a desire to lead positive change in all that we do. Whether providing essential natural gas services or supporting the critical infrastructure of other utilities, our commitment to responsibly advancing environmental, social and corporate governance (ESG) eff orts further drives our success. Here, our board and management team provide the oversight needed to help ensure these directives are met and that we uphold the greatest integrity in doing so.
In 2020, we expanded our Companywide ESG reporting framework to include Sustainability Accounting Standards Board (SASB) metrics, which enhance the standardization of our reporting and ultimately aid in the external assessment of our business. In support of this comprehensive undertaking, Centuri founded several cross-functional enterprise excellence teams, furthering our strategic sustainability goals across a growing family of companies.
Building Sustainable Practices
As our business expands, we continue building upon our sustainable environmental practices. In 2021, Centuri announced its plan to reduce greenhouse gas (GHG) emissions by 25% by 2030. At the same time, Southwest embarked on a critical evaluation of the pathways to attaining shared emissions reduction goals in its service territory. Demonstrating progress in this area, Southwest continues to actively reduce its carbon footprint through improvements to its fleet and building facilities. Southwest has also made significant progress in delivering low-carbon fuels to the marketplace through renewable natural gas (RNG) projects and hydrogen blending pilot programs.
All this comes while maintaining critical reliability and an inherent ability to withstand the tests of outside forces. When severe winter weather curtailed interstate natural gas deliveries in early 2021, Southwest's liquified natural gas (LNG) plant in Tucson, Arizona, proved its resilience as a reliable energy source in unlikely high-impact events. Similarly, with the importance of cybersecurity broadening in the utility space, we are elated to see our proactive enhancements in digital safety credited by CSO for combining resilience and innovation while protecting confidential data.
Prioritizing Our Communities
As a Company, we continue to prioritize our efforts to mitigate the pandemic's impact on the communities where we live and work. In early 2021, Southwest and Centuri put forth a collaborative effort toward the COVID-19 vaccine rollout, partnering with a local nonprofit in Arizona to administer over 18,500 doses in five days. Combined with the myriad of volunteer efforts we participate in throughout the year, we are heartened by how our employees' dedication continues to evolve, invariably reaching new and meaningful heights. Companywide, employees selflessly gave a remarkable $2.3 million to over 220 local nonprofits in 2020, assisting when and where our communities needed them most.
Together, our strong focus on social responsibility has empowered us to take significant steps forward. Centuri's appointment of a diversity leader and launch of an internal diversity council are two advancements we are incredibly proud of. In turn, Southwest continues to build upon its diversity, equity and inclusion (DE&I) efforts by continuing to announce new commitments that will advance our Company's collective strategy.
By including the many diverse views that comprise our Company, we can forge a bright future that we all take pride in sharing. To build a better tomorrow, we remain committed to acting with diligence today.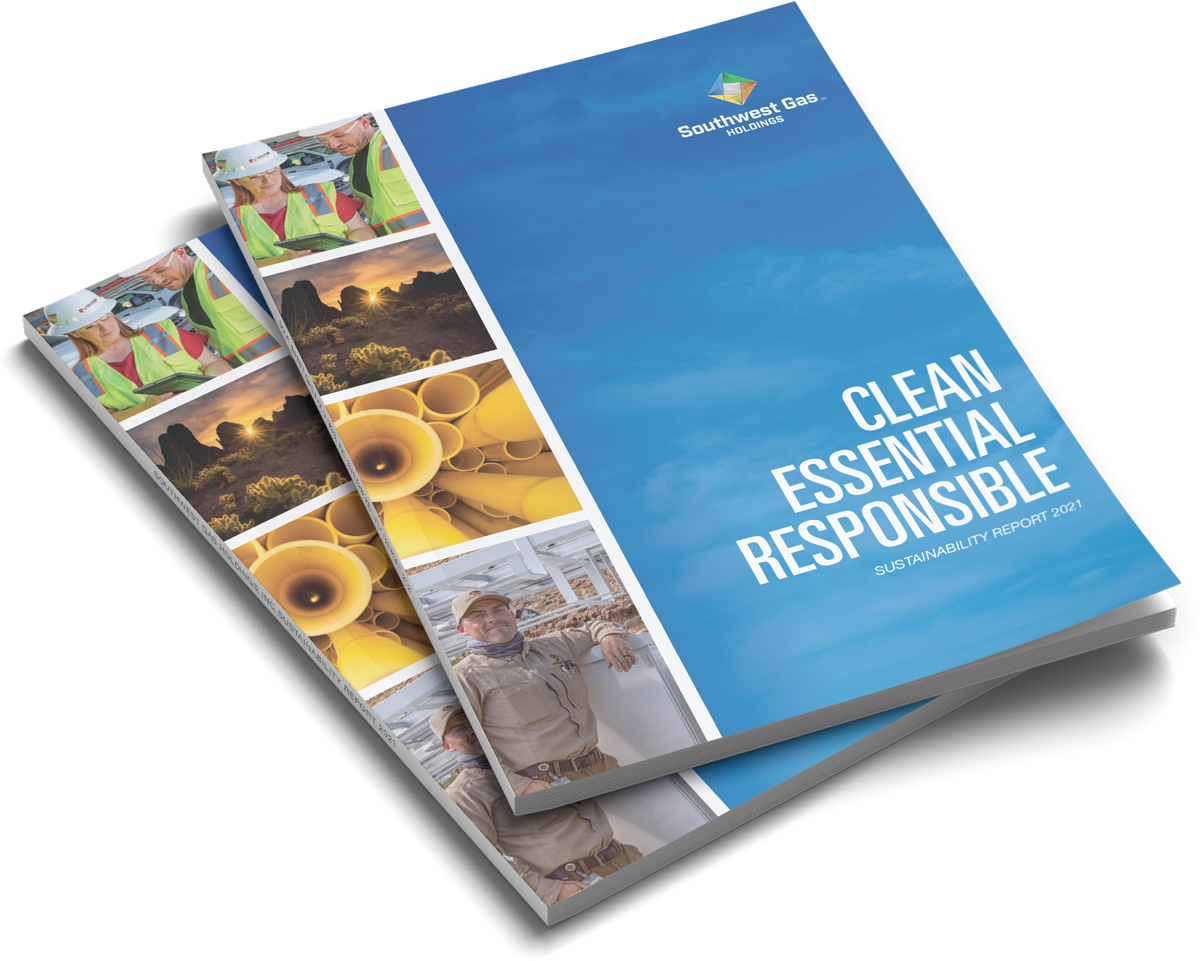 "Clean Essential Responsible"
2021 Sustainability Report
Additional Resources
Southwest Gas | Centuri | MountainWest
---